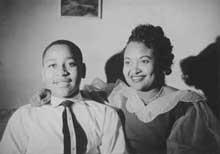 In 1955, Emmett Till, a 14-year-old African-American from Chicago, was visiting family in Money, Mississippi. While there, he went to a corner store and allegedly said, "Bye, Baby,"1 and whistled at the white woman behind the counter.2 A few days later, relatives of that woman kidnapped Emmett from his uncle's home. They brutally beat him, shot him in the head, and disposed of his body in the Tallahatchie River. They were never convicted of their crime, but later confessed their guilt.3
When Emmett's body was recovered, it was sent to a funeral home in Chicago. Upon seeing Emmett's mutilated body, his mother declared that she wanted an open casket at the funeral, saying, "Let the people see what I've seen."4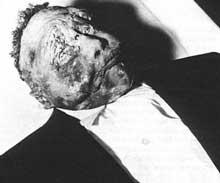 Dr. Clenora Hudson-Weems, Ph.D., wrote a book about this incident entitled, Emmett Till: The Sacrificial Lamb of the Civil Rights Movement. In it, she argues that Till's beating and death was the catalyst for the Civil Rights Movement. Hudson-Weems interviewed civil rights activists who testified that Till's murder motivated them to fight for the equality of African-Americans.5
In the month following Till's murder, five out of six black radio preachers aired sermons about what had happened to the young boy. There was also nationwide television coverage of the trial of the suspected murderers.6
What is interesting is that today most people credit Rosa Parks, the African-American woman who refused to surrender her bus seat to a white man, as being the catalyst for the Civil Rights Movement. Hudson-Weems' research shows otherwise and she provides a compelling quote from Emmett's second-cousin to provide insight into this situation:
Historians will talk about the good and the bad, but they don't want to deal with the ugly… The ugliness of racism is not a White man's telling a Black woman to give him her bus seat—bad as that is—but the confident home-invasion, kidnapping and murder of a fourteen-year old Black youth and the exoneration by jury of the youth's apparent killers.7
In 2005, Rosa Parks died. At her funeral, Reverend Jesse Jackson said that he had asked Parks why she didn't give her bus seat to the white man in 1955 and quoted Parks as having said, "I thought about Emmett Till, and I couldn't go back."8
Civil rights activists courageously exposed the injustice of racial segregation and made sure that Americans could see its brutality. Whether it was the shocking pictures of Till or the disturbing images of peaceful civil rights activists being attacked by racist bullies, they strived to effect change.
Opening the casket on injustice was a controversial step, but an important one for the Civil Rights Movement. They knew it required leaving the comfort of their churches and confronting the culture at whites-only lunch counters, on segregated buses, and in other public areas. When they did this, they were persecuted brutally:
Look back to the civil-rights-era images: Fire hoses. Lunging dogs. Citizens hammered for the audacity of attempting to vote, to ride a bus or sit at a lunch counter.

'People talked about justice for years and years, but suddenly you could see a graphic illustration of injustice,' says Jim McNay, who teaches visual journalism at Brooks Institute of Photography in Santa Barbara, Calif.

When 900 students marched for freedom in Birmingham, Ala., on May 3, 1963, police attacked with dogs and fire hoses. Dramatic photos… dominated the news. Demonstrations erupted in 186 cities. President John F. Kennedy called for the Civil Rights Act. The nation faced up to injustice 'because the pictures backed up the words,' one senator said.9
These direct-action campaigns were bold and were even criticized by prominent people who opposed segregation. In defending these tactics, Dr. Martin Luther King, Jr. wrote the following in his Letter from Birmingham Jail:
Like a boil that can never be cured so long as it is covered up but must be opened with all its ugliness to the natural medicines of air and light, injustice must be exposed, with all the tension its exposure creates, to the light of human conscience and the air of national opinion before it can be cured.10
History, both pre and post the era of the Civil Rights Movement, shows that the exposition of images was a powerful tool to convict people.
Back to Historical Social Reform
Douglas Brinkley, Rosa Parks (New York: Penguin Group, 2000), 100.
Timeline: The Murder of Emmett Till," 1955-2003, PBS online documentary information available from www.pbs.org/wgbh/amex/till/timeline/timeline2.html, viewed on February 14, 2007.
The Murder of Emmett Till," PBS online documentary information available from www.pbs.org/wgbh/amex/till/sfeature/sf_look.html, viewed on April 4, 2006.
"The Murder of Emmett Till," PBS documentary, 2003.
Clenora Hudson-Weems, "Resurrecting Emmett Till," Journal of Black Studies, Vol. 29, No. 2, November 1998, 179–188.
Brinkley, 102.
"Resurrecting Emmett Till," quote taken from Emmett Till: The Sacrificial Lamb of the Civil Rights Movement, by Clenora Hudson-Weems, 1994, 75.
"Mourners pay tribute to Rosa Parks," CNN.com, November 3, 2005. Viewed online at www.cnn.com/2005/US/11/02/rosa.parks/index.html on July 26, 2006. In Douglas Brinkley's book, Rosa Parks, it says, on p. 101, "Rosa Parks wept when she saw a grisly photograph of Till's body in Jet magazine, his face so bruised and distorted that the sight of it made her physically ill." Then, on p. 109, "A lifetime's education in injustice—from her grandfather's nightly vigils to the murder of Emmett Till—had strengthened her resolve to act when the time came."
Photos bring our agony into focus," USA Today, May 10, 2004, 5D.
"Letter from Birmingham Jail," 365.