Joignez-vous à Montréal contre l'avortement et le CCBR pour une journée de formation et de sensibilisation au centre-ville de Montréal. Apprenez à changer les cœurs et les esprits sur l'avortement!
Join Montreal Against Abortion and CCBR for a day of training and outreach in downtown Montreal. Learn how to change hearts and minds on abortion!
Programme
9h00 Messe à l'église de Saint-Michel et Saint-Antoine
10h00 – 12h00 formation (sous-sol de l'église)

Présentation apologétique par Michelle Caluag (anglais) et Katie Somers (français) pour les débutants (TRTL)
A seminar with Jonathon Van Maren for experienced team members of Montreal Against Abortion

12h00 – 14h00 Lunch / déplacement vers le métro
14h00 – 15h30 "Choice Chain" à Ville-Marie
15h30 – 16h00 Débriefing
Et Aussi: Jeudi le 23 Juin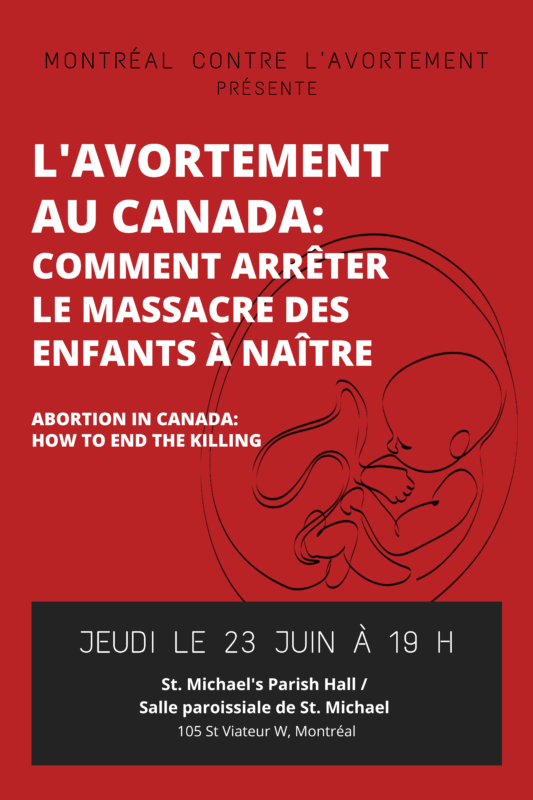 Quand:
Vendredi le 24 juin, 2022
10h à 16h
Où:
l'Église de Saint-Michel et Saint-Antoine
105 St Viateur W
Quoi:
Formation et sensibilisation
Dialogue Training & outreach
Register Now!