Toronto Pro-Life Crash Course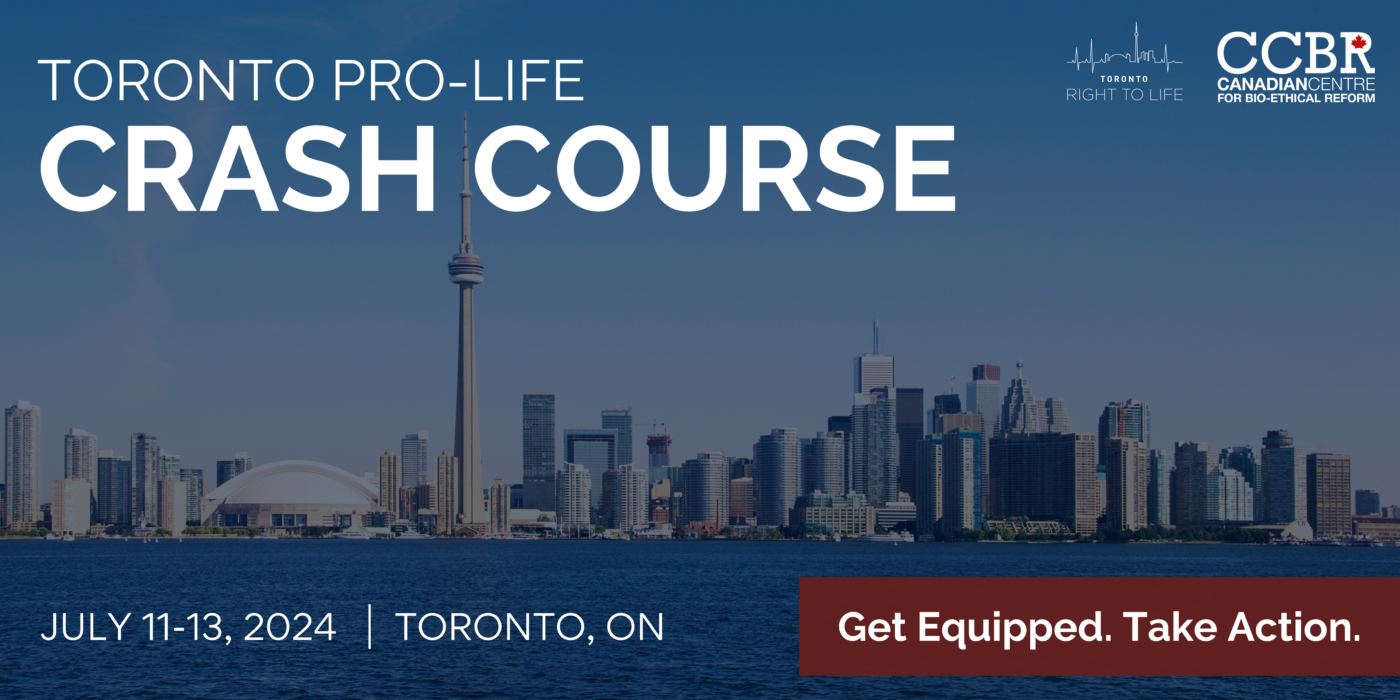 Are you looking for an opportunity to learn how to reach and transform the culture on the issue of abortion? Are you looking for a chance to gain hands-on experience in how to do effective pro-life activism in your own community? Do you want to be trained in how to effectively and compassionately share the pro-life position with your fellow Canadians? Do you want to gain invaluable experience changing minds and saving lives through proven pro-life outreach projects? If you have answered, "YES!" to any or all of these questions, then the Toronto Pro-life Crash Course is for you!
This Crash Course for activists, offered in partnership with Toronto Right to Life, is focused on building up a groundswell of pro-life activists dedicated to changing hearts and minds and saving lives. The high calibre pro-life training will include talks on apologetics, strategy, campus strategy, the culture war, and the pastoral and political arms of the pro-life movement. The Crash Course will feature speakers from CCBR and TRTL, and guest speakers from other pro-life organizations. Perfect for activists of any experience level, the Crash Course will contain both beginner and advanced streams, as well as special sessions for students on campus strategy.
This three-day course will not only cover much of the conversation skills and training we offer during our summer internship programs, but will also provide real activism experience on the front lines of the pro-life movement. You will join CCBR and TRTL staff, summer interns and volunteers on the streets of the Greater Toronto Area and expose the truth of abortion.
Here's what one past attendee said about how the Crash Course impacted him:
"If there is one thing I can say about the CCBR Crash Course, it is that it equipped me to be an effective and bold ambassador for pre-born children. I joined with absolutely no experience talking to people about abortion, and in a few short days I saw many people change their minds after short conversations. And best of all, two parents who had abortions scheduled for their children changed their minds and their babies were saved! I would recommend the Crash Course to anyone, experienced or not, who wants to defend pre-born children from the cold and destructive procedure of abortion."
If you want to end the killing in Canada, consider attending the Toronto Pro-Life Crash Course this summer!
Who:
Anyone who wants to learn how to be an effective pro-life activist
There will be an advanced stream for those who have already completed introductory training.
When:
July 11-13, 2024
Thursday 1-8pm

Friday 9am – 8pm (dinner provided)

Saturday 9am – 6pm
Where:
Toronto, ON
Applications are not yet open. Check back soon!