This summer, over 60 CCBR interns and staff are bringing the truth about abortion to Canadian streets. Over the next few weeks, we will be introducing you to some of the courageous men and women on the front lines of the Culture War!
Partner with us financially by supporting our Summer Internship Crowdfunding Campaign!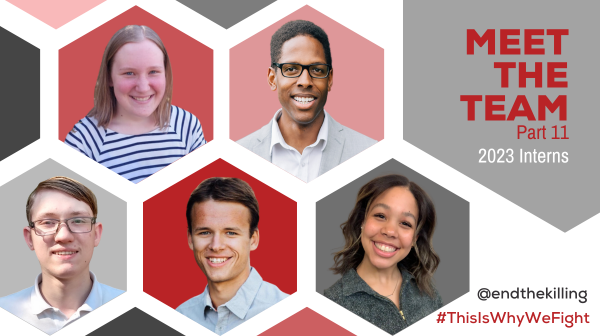 Janae- 2-month Ontario Intern
"Pro-life work is important because each day, 300 children are killed in Canada.
During activism, I have seen many people become pro-life and realize that abortion is not the solution to hard circumstances. I have been doing activism for a while and I love seeing people change their mind on this important issue."
John – 2-month Ontario Team Leader
"I believe that if we have the opportunity to save a life and encourage others to do the same, we absolutely should!
I enjoyed last year's internship and look forward to learning and growing even more. I believe that every human is made in the image of God and I look forward to spending my summer showing an injustice, having conversations about it in a loving way, and seeing minds changed and lives saved."
Josef – 2-month Ontario Intern
"Human life is valuable beyond measure and so it should not be discarded.
I want to get into policy analysis when I graduate school and a pro-life internship seemed like a great way to get acquainted with the world of contention."
Joshua – 2-month Alberta Intern
"Pro-life work is important because of the imminent need in our culture for the saving of so many babies, and the healing of so many families from the tragedy of abortion. The true scale of the issue was one significant factor that drew my heart to pro-life work, seeing that abortion is an issue causing death and grief to so many."
Kafui – 2-month Alberta Intern
"We live in a country where abortions are a reality, and if we truly believe that it's wrong then we all have a certain duty to do something to end it whether it be doing something like the internship or financially supporting those doing the internship.
What inspired me to intern was finding out how horrendous but common abortions are. It's one of those things that once you know about it, you can't un-know. I felt the need to do something since I don't have a reason not to, so here I am!"
Abortion ends the lives of the youngest and most vulnerable human beings in our society. Their silent screams can't be heard, but their broken bodies can be seen. This is why Janae, John, Josef, Joshua, and Kafui are joining our 60+ interns and staff on Canadian streets this summer, to educate the public about the most egregious human rights violation of our time. Help us making abortion unthinkable in Canada by donating to CCBR's Summer Internship Crowdfunding Campaign!