This summer, over 60 CCBR interns and staff are bringing the truth about abortion to Canadian streets. Over the next few days, we will be introducing you to some of the courageous men and women on the front lines of the Culture War!
Partner with us financially by supporting our Summer Internship Crowdfunding Campaign!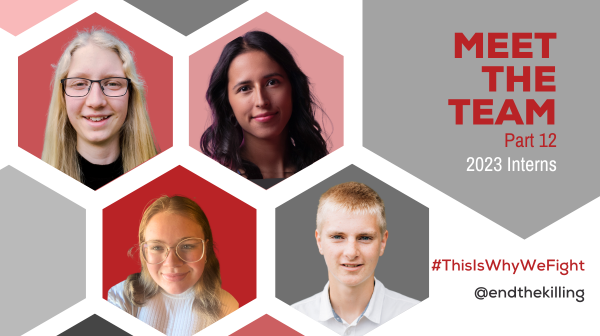 Keziah – 2-month Ontario Intern
"The pro-life movement recognizes that every human life has inherent dignity and value, and that this extends to babies in the womb. Pro-life promotes a culture that values life regardless of age, race, or disability. By sharing the truth about abortion, we can help work towards creating a society that sees value in each and every human life.
This summer, I am most looking forward to doing work that has a great potential to make a difference in society. I will have the chance to save the lives of unborn children. My work, by God's grace, could literally be life-saving!"
Maria – 2-month Alberta Intern
"Each human life is precious and it's a beautiful gift from God. Many people in our society want us to think that abortion is not a big deal when, in reality, the murder of innocent children in the womb is one of the most pressing and important issues of our time. We have to stand up for those babies. They are very vulnerable and can't defend themselves!"
Mattea – 2-month Ontario Intern
"Pro life is important because the second that an egg is fertilized, it has become a living human. We can't take life away from anyone, not even the pre-born. Every life is made in the image of God, and it's not our decision whether someone should live or die.
I really want other people to know how important pro-life is and what abortion really is. I want to open minds, and help others."
Matthias – 2-month Ontario Intern
"Pro-life work is important simply because, if we do not do it, babies will continue to die everyday.
I was inspired by participating in last summer's internship and the first hand encounters of people wounded by abortion."
Pre-born children are killed every day in Canada. Their silent screams can't be heard, but their broken bodies can be seen. This is why Keziah, Maria, Mattea, and Matthias are joining our 60+ interns and staff on Canadian streets this summer, to make abortion unthinkable by exposing it with abortion victim photography and human rights apologetics. Help us making abortion unthinkable in Canada by donating to CCBR's Summer Internship Crowdfunding Campaign!